Autoclave Safety
Training
Autoclave training is required every three years for anyone using an autoclave. Register for the Autoclave Safety learning track in Ability LMS.

Operation
Step 1
Collect in leak-proof, puncture resistant secondary container with lid.  Lined with a biohazard bag that fits appropriately.  Add a biohazard label on the lid and side of container.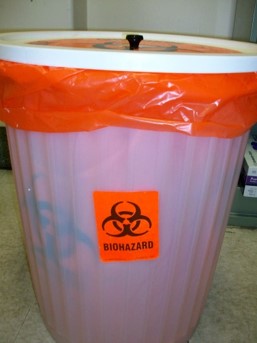 Step 2
When ¾ full or within 90 days, place biohazard bag into an autoclave tray, Leave bag open to allow steam to penetrate bag. Add ~ ½ cup of water to bag. Autoclave bag in tray at parameters on machine.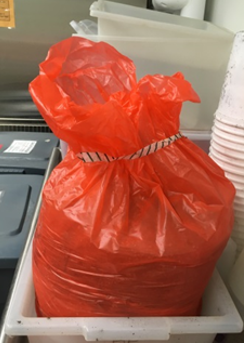 Step 3
At Cycle end, wait for pressure to release completely prior to opening door. Wear correct PPE:  lab coat, long pants, closed toed shoes, autoclave gloves, and eye protection. Open door slowly and stand back as steam is released. When cycle was not completed or there is an error, contact a repair person and notify EHS. EHS tests the autoclave after maintenance /repair and at least once per year unless USDA/APHIS permits require shorter frequency.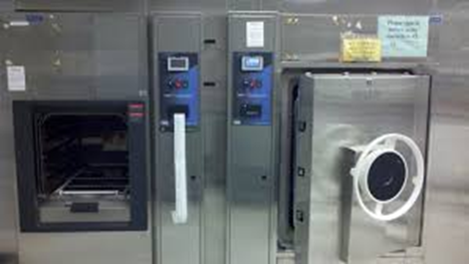 Step 4
After autoclaving allow to cool slightly then place in black opaque bag for disposal into dumpster. Orange bag cannot show through black bag. Black bag must be tied closed.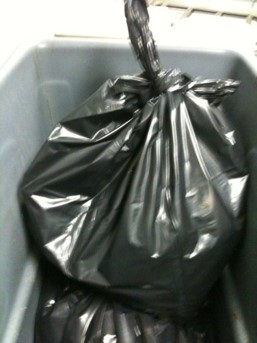 Common Issues
State and Federal regulations require biohazardous waste to be secured, treated and disposed of as defined in the required Biohazardous Waste Management Plan (PDF).
Autoclave usage and biohazardous waste sterilization issues are found too often in the University's autoclave rooms.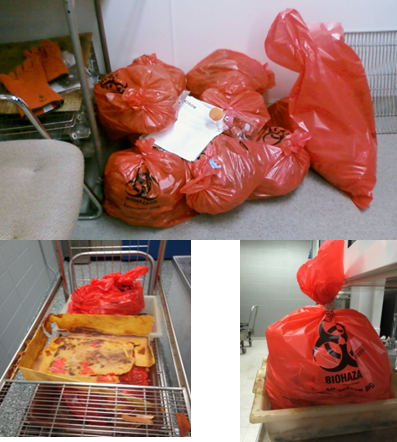 These pictures are the wrong way to handle waste.
Bags without secondary containers are not permitted
Shattered secondary containers must be cleaned up and disposed of properly
Bags should never be tied or taped shut
After autoclaving bag must be placed in a black opaque bag as a requirement of the local landfill.
Proper Clothing and PPE
Clothing required:
Long pants
Closed toed shoes
PPE required:
Lab coat
Approved autoclave gloves
Eye protection
Solid Biohazard Waste
Must be secured in lab
Must be less than 2/3 full
Use secondary container (polypropylene or stainless steel)
Replace when polypropylene when it becomes flexible or brittle, or when steel rusts
If it breaks or shatters you must clean it up, if it happens within the autoclave, place an out of service sign on the autoclave and inform EHS
Keep bag 2-3 inches open
Add water
After cycle is complete, remove bag from autoclave carefully and place in opaque black bag after it has cooled (< 2 hours)
Place in dumpster
Lead Products

Testing/Certification Procedure
Testing of autoclaves is an annual to quarterly requirement depending on permits and/or research materials being utilized. In order for the autoclaves to be tested consistently, personnel closely associated with the departments using the autoclaves must participate in the testing process.
Each department has a designated contact person for all autoclaves associated with the Department. The designated contact person will receive communications from EHS on testing dates, certification memos, parameter signs, and instructions on running the certification test kits.
Testing Instructions
Prior to running test:
Prior to testing due date, EHS will drop off test kits and paperwork
Contact EHS prior to running the test to ensure EHS is available to process the kit.

Kits can be processed Monday – Thursday prior to 4:30pm
Special circumstances, contact EHS in advance to make arrangements
Running test:
Place test kit next to drain in autoclave
Set autoclave to parameters listed on the run parameter sheet found on the autoclave and run
Fill out paperwork, make sure to complete all sections
Contact EHS when test is complete informing them:

when you will drop off the kit and paperwork or
where to pick up if that was arranged

EHS will process the kit, prepare certification memos and run parameters.
EHS will email the report, including run parameter sheet, within a week of the test.
Place run parameter sheet into sleeve attached to autoclave
Repair or maintenance:
Contact EHS
Run test as previously described
New or updated USDA/APHIS permit:
Send a copy of the permit to EHS
Resource