Click Compliance System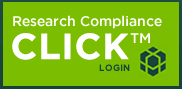 Click Portal Login
Click is MSU's research and compliance system for Biological Safety (IBC) and Radiation Safety application submittal, review, and approval.
ANNOUNCEMENT: MSU IT will soon (August 28, 2021) make improvements to the current login experience for several MSU applications and systems. These changes will enhance security, enable you to reset your own password, and reduce the time you spend logging in. This change will affect users accessing Click. Additional information can be found at the MSU IT website.  
Click System Resources
Help with Biosafety Module
Help with Radiation Safety Module