Fume Hoods, LEV
Annual Testing
Annual testing of fume hoods and local exhaust ventilation used for hazardous exhaust is required by OSHA and the MSU Chemical Hygiene Plan. There is no cost to the department.
EHS tests by building and will send an email notification to the building representative on record with IPF. Inspection and testing of each hood takes approximately 15 minutes.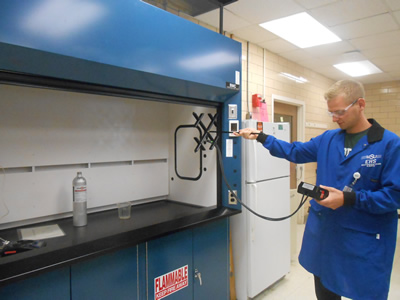 Safe Use of Fume Hoods and LEVs
Face velocity
After testing, the hood is tagged with an inspection sticker showing face velocity and air flow. Hoods are safe to use at a face velocity of 80-100 feet per minute.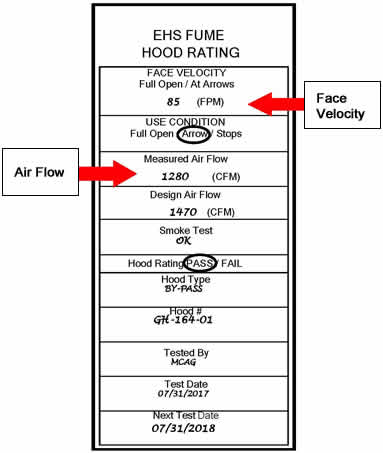 Sash height
Some hoods need to have the sash lowered to provide adequate capture velocity. These hoods are labeled with arrow stickers showing the maximum safe sash height. Do not work in the hood with the sash above the arrow stickers.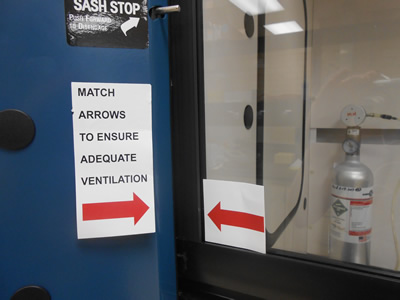 Keep sashes closed when not in use.
Alarms
Many hoods have hood alarms that alert the user to an unsafe condition and display the hood face velocity.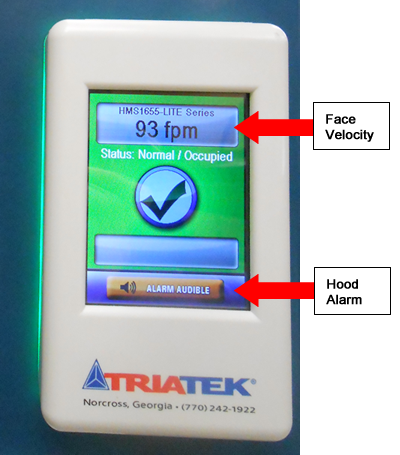 Purge mode
Some hoods have a purge mode button on the hood monitor that can be used if there is a spill in the hood.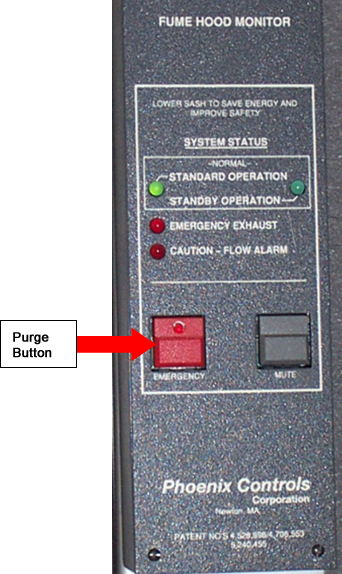 For Repairs
For repairs, contact IPF at 353-1760.
Hoods found to be unsatisfactory during EHS testing are tagged (minor problem) or barricade taped (unsafe to use) as out of service. Minor problems include missing hardware, damaged sash glass, broken hood monitor or excessive flow. Unsafe hoods have reduced flow and ineffective capture velocity. Do not use hoods with barricade tape.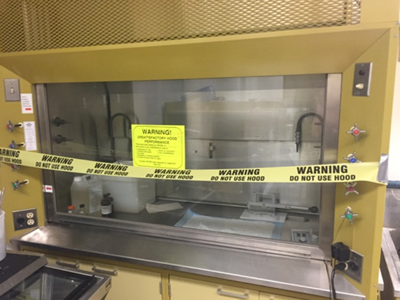 IPF repairs unsatisfactory hoods by way of a service request. Departments are responsible for repair costs. The University does have a fund to repair hoods with excessive flow.
Questions
Call EHS at 355-0153 for any fume hood questions. An EHS representative will come to your lab to investigate.