Warning signs and emergency contact information up to date and posted on doors
All laboratory doors must have an "Admittance to Authorized Personnel Only" sign provided by EHS. This must contain appropriate contact information including the name and phone number of the laboratory supervisor or other responsible personnel. These names and numbers shall be updated when personnel change. In case of an emergency, responders use this information to contact knowledgeable personnel about specific laboratory hazards.
In addition, signage must have symbols that reflect the current hazards found in the laboratory: for example, a biohazard label is required for all areas or equipment in which BSL-2 or higher agents are handled or stored; chemical hazard symbols must be present if a laboratory has 10 gallons or more of a flammable or corrosive liquid or toxic gas(es) and so on.
References:
Biosafety in Microbiological and Biomedical Laboratories, 6th Edition. Section IV.
MSU Chemical Hygiene Plan. Section 5.1.2.
MSU Biosafety and Security Manual
MSU Bloodborne Exposure Control Plan
OSHA Standard 1910.1450 App A.
Corrective actions:
Doors that require a laboratory door warning sign:
All lab doors entering the lab regardless of usage
Interior doors to side lab spaces and adjacent labs
All doors leading to the same room need to have the same hazard information. This covers the hazards in the room, not what an individual PI is working with within shared lab spaces.
Request door signage from EHS Safety Portal (Lab Door Sign Request).
Review selection criteria for hazard labels before starting your request on the EHS Safety Portal (Lab Label Request).
For example: The safety glasses designation on a door sign requires safety glasses to be worn 100% of the time in the lab regardless of what is being worked with. If you know some work, but not all require safety glasses, it is best to write that into a protocol and not put the designation on the door.
Periodically check the contact names and phone numbers on signs to make sure they are current and submit a request for a new sign as needed.
Door sign with no hazards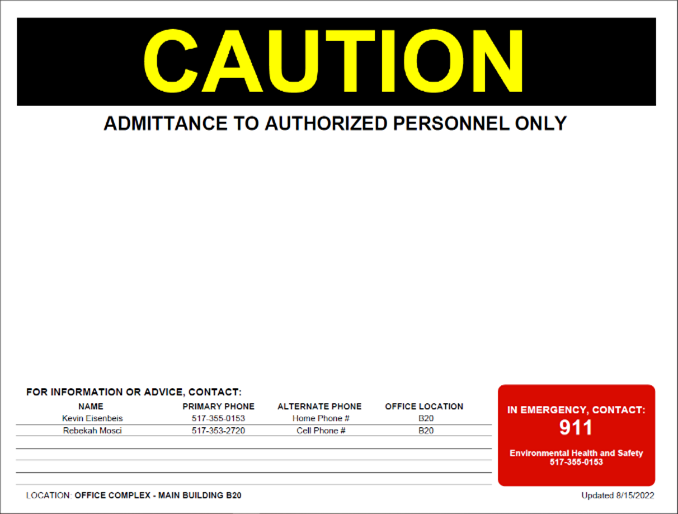 Door sign with hazards