Worker Training Registration
The WPS training program includes attending a scheduled online instructor-led video presentation and a site-specific orientation for each location/facility you plan to visit. Plan Ahead!
1. Pesticide Worker Protection (WPS) Track
Ensure you are registered in the Worker Protection Standard (WPS) for Pesticide Safety learning track (MSU login required). Track enrollment is required in order to enroll in the annual class and to ensure you get email reminders prior to expiration of your training each year.
The WPS track includes an annual instructor-led video presentation and an initial WPS site training.
2. Enroll in Classroom/Video Portion
Log in to Ability system - https://orrs.msu.edu/train and click My Requirements tile. Click on the course title Worker Protection Standard (WPS) in the list of learning track requirements.
Scheduled sessions will be listed under the course description. Click the
Register
button next to a session to enroll. 
Preview the list of scheduled sessions
Check the seat availability for existing online video classes. No additional online video classes will be scheduled.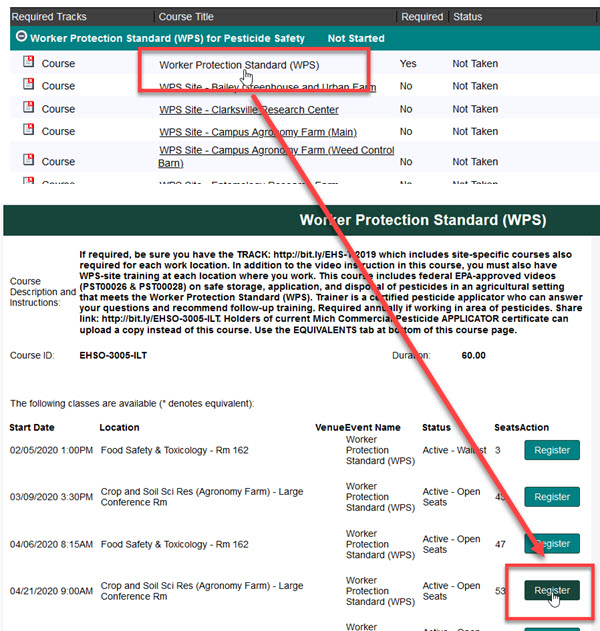 3. Site-Specific Training 
Employees and students conducting research-related activities in areas where they may be exposed to pesticides must attend a safety orientation for each new site. 

Your annual classroom/video training class (above) must be up-to-date. 

Schedule your site orientation training in advance with the site manager or trainer for each new work location. These are listed in the WPS track in Ability or use the following Site Contacts.