Updated Biosafety Manual Available
February 21, 2017
A new version of MSU's Biosafety Manual (PDF) is available for download. Read on for a summary of the changes.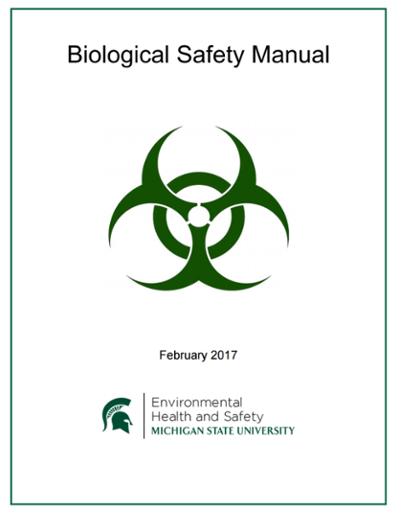 Personal Electronic Device Use in the BSL-2 Laboratory Page 64
Personal Electronic Devices (PED) can include, but are not limited to head phones, ear buds, cell phones, smart phones, MP3 players, personal computers, tablet computers, electronic book readers, recording/playback devices. Their use in the laboratory is prohibited unless approved for research by EHS. This is due to potential contamination of the PEDs, transfer of the contamination outside of the laboratory, as well as the device causing a distraction when doing critical work.
Music Listening – Ear buds and headphones are prohibited. MP3 players must be placed in a sealed plastic bag (i.e. Ziplock) and disinfected prior to leaving the lab. Utilize a benchtop Bluetooth speaker that remains in the facility and disinfected regularly instead of any listening devices that are worn on the person.
Laptops and Computers – Personal computers are discouraged from being brought into the laboratory from home unless:
• the device will remain within the facility as a laboratory only computer and is disinfected regularly
• the device is kept in an area far from experiments or hazardous materials, such as a laboratory desk designated for documentation
Smart Phones and Tablet Computers – It is suggested that if they must be used in the laboratory they must be inside of a sealed bag (i.e. Ziplock) The bag must be disinfected before leaving the laboratory. The item can then be removed from the bag.
Customs Broker Required for Entry into US with Biological Materials Page 70
A Customs Broker is required to enter the country with biological materials. Shipping through companies such as Fed Ex may be contracted for this service. Contact University Logistics regarding the MSU contracted Custom Broker.
Exposure Response Procedure Appendix F
Exposure Response Procedures changed to have you report to Lansing Urgent Care for exposures to potentially infectious materials and toxins. 
Addition of Large Scale Biosafety Guidelines - Appendix L
Download the Full MSU Biosafety Manual (PDF)
The goals of MSU's biosafety program are to protect personnel from exposure to infectious agents, prevent environmental contamination, provide an environment for high quality research while maintaining a safe work place, and comply with applicable federal, state and local requirements. Read more about the biosafety program.